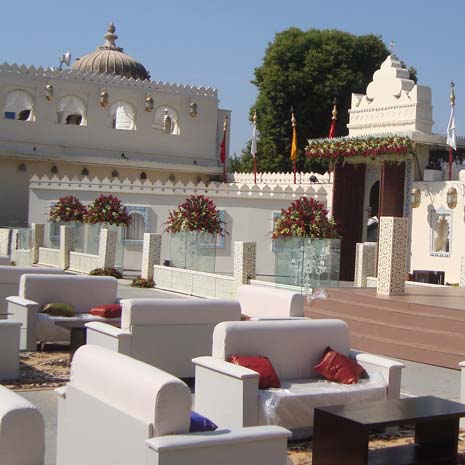 K. P. Singh's 80th birthday celebrations. Jag Mandir, Udaipur
K. P. Singh's 80th birthday celebrations
Jag Mandir, Udaipur

When we received a call from Michael Menezes of Showtime Events, we were super thrilled! They were planning a mega celebration for Mr. K.P. Singh's milestone birthday! The venue selected was one of India's most spectacular location – Jag Mandir, Udaipur. Now the thrill of working in a gorgeous venue is that your concept must enhance the magnificence of the architecture and interior design of the space. We flew to Udaipur and met the Showtime design team at site. They walked us through their concept and the event flow. This allowed us to focus on the main areas for the flowers! On our way back, we scribbled and doodled a few floral styles to complement the design. Within a week, we were ready to sample the main floral arrangements. Our team was summoned to Delhi, at Mr. Singh's gorgeous residence on Aurangzeb Road. The moment we saw the imposing wrought iron gate, it brought back a flood of memories. It was November 2003, Mr. Singh's daughter's wedding, when we had to transform the 5 stunning havelis into a floral paradise! The mehendi and wedding were being hosted at the residence, perfect for a private setting. It has been 15 years since, and we still get to hear about how the guests couldn't stop gushing about the décor. One of our most fulfilling assignments.
All these thoughts went by in a flash when we were ushered into the magnificent lawns, and we said our hellos to the family. Meanwhile, our team was prepping to unbox the material we had sourced from across the globe! It had been a massive exercise to request a small quantity from our suppliers for the sampling. The flowers were now lined up to be adorned in the most creative way possible. It almost always seems like we are defying nature and saying, now we will make you more beautiful than your creator. To be honest, that is exactly what our job entails.
So we pruned and primed the flowers to fashion an OTT (over the top) style using an intricate silver candelabra enclosed in an acrylic cube. Hydrangeas, roses, calla lilies, peonies, baby's breath and the trailing ivy creeper, with our favorite eucalyptus leaves! The family was delighted and so were we!