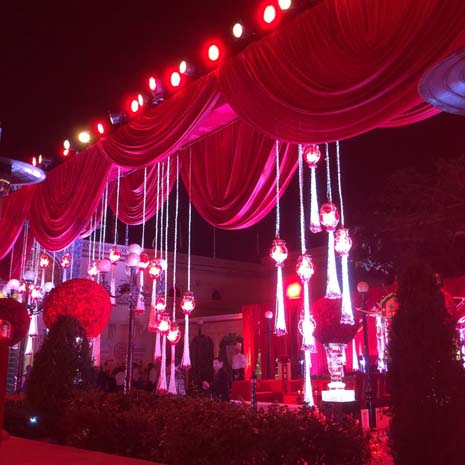 Anu Mahtani & Sanjay Hinduja's wedding. Manek Chowk & Zenana Mahal, Udaipur
Anu Mahtani & Sanjay Hinduja's wedding
Manek Chowk & Zenana Mahal, Udaipur

Our regular favorite, Poonam Bhagat called on us to block our dates for the month of February. And so we did, of course! It was only after couple of months that the first meeting took place at her residence with Mr. Sanjay Hinduja, the groom in question! We were thrilled with the knowledge that we would be working for the Hinduja family yet again.
Back then, we were a part of Renuka's wedding celebrations in Mumbai. And what a fabulous lineup of events it was! The family residence, Paramjamuna at Juhu had been converted into a stunning design by the renowned art director Bijondas Gupta.
And now, this wedding was planned in the City Palace at Udaipur. What a stunning location! And to create a meaningful impact, the design has to surpass the surrounding beauty. Fortunately, Ms. Dhun Cordo, one of the most sought after wedding designers in the country, was headlining this project. For the first recce, we were also accompanied by Rob Van Helden from London, floral designer par excellence! It's almost like a rhythmic jugalbandi, when multiple creative forces come together to collaborate on a project.

Thus Manek Chowk and Zenana Mahal became our playground over the following months. Both mom & myself, were briefed by Dhun. Then began the several sampling rounds, till we all were thrilled with the final outcome. The scale was colossal and our procurement activity began at least 3 months prior to the event. Our studio, warehouses were all filled to the brim with various materials sourced from across the country!
The countdown begins, and we gather a crew of 85 floral artist for execution of the 3-day assignment. In the meanwhile, a production assistant leaves for Udaipur to assemble all our pre-production needs! An interesting anecdote here, is that we didn't have storage space at the venue itself. So we used mini tempos and hand carts, to transport the flowers from a rented warehouse!
Amongst the many highlights in the design for the events, my personal favorite was the 4 tall urns carved out of ice! And we created 4 foot diameter topiaries of only red roses! I have to say – it was definitely a showstopper. We now have Imagine Ice to create unusual and creative ice sculptures, ice bars, ice stage and so much more.

With almost 1000 crew working day & night for 3 consecutive days, the final result was mesmerizing. Flowers, lights, mirror panels, projection mapping, it all came together creating one giant display of a big fat Indian wedding! And the entertainment line-up just took the whole event multiple notches higher. Ranveer Singh, the Bollywood heartthrob was called in to Emcee this fabulous evening. Sophie Choudry, Nicole Scherzinger, Vishal-Shekhar and the night just took off to another level with all these stars enthralling the audience with what they know best!
Yet another event completed successfully. The measure of our accomplishment is only & always a feedback from the client. When Ms. Ritu Chhabria called and applauded our efforts, we knew that the décor was received well. It just made us beam and the smile didn't leave our faces for many days to come…