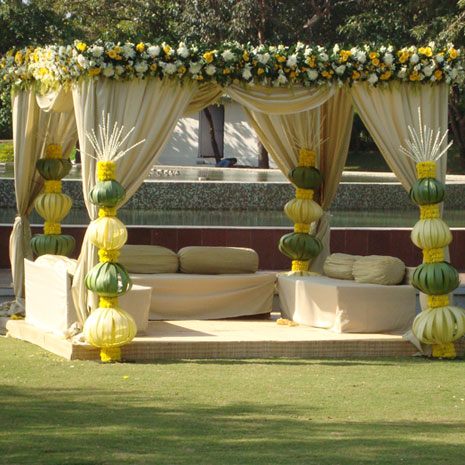 Riddhima Kapoor & Bharat Sahni's wedding. Grand ITC, Mumbai
Riddhima Kapoor & Bharat Sahni's wedding
Grand ITC, Mumbai

A family that eats together, stays together! This age old adage certainly rang true, when we were called upon to design Riddhima's wedding. My fondest memory still remains our sumptuous lunch at the sprawling RK Cottage. The Late Mrs. Kapoor was the proverbial "hostess with the mostest" making you instantly feel at home. Elegant, graceful and warm is how I remember her.
Interestingly, this was a pot luck lunch. Neetu ma'am had confessed to my mother her weakness for Gujarati food, especially a very popular dish called "dal dhokli". Now that is all my mother needed to know! On the day, we landed up at the cottage with 2 big handis of our staple homemade delight, which I obviously ignored, and fully focused on the massive spread beautifully laid out. The mutton pulao, tandoori chicken and the yummy pickles…. pure bliss!
No, this article is not about food, sorry for the digression. It is just my observation on how families bond at the dining table. The first time we met Rishi sir and Neetu ma'am was at Krishnaraaj, their gorgeous Pali Hill house. Now, this wasn't the first time I was meeting a superstar from our film industry. However, when we entered Rishi sir's "den", I immediately understood why it was called that! Lord of the jungle in person. There is no way to describe the feelings of nervous excitement I felt when we shook hands. And the lovely Neetu ma'am was effusive as ever, making us feel at ease. This was a preliminary meeting, more like an audition… to assess our competencies, and whether we could appreciate their sense of aesthetic and brief. Thankfully, we were accepted wholeheartedly by the family.

When we deliver a concept to a client, there are various deliberations and parameters to our design approach. Each interaction and brief from the client is worth its weight in gold. Sometimes a client is well-informed and very clear of their expectations, and many a times, they look to us for inspiration. This is probably the most critical aspect of our design journey! It makes us beam with pride, that in case of Riddhima's events, the entire family was thrilled with the final outcome for her Mehendi, Sangeet, Wedding & Reception.
I can never forget the wintery January day of 2006, when we were working in the beautiful lawns of ITC Grand Maratha, Mumbai. It was about 5:00 pm and we were fine-tuning the stage lighting when Rishi sir came out of his room overlooking the lawns, along with Neetu ma'am and with a broad smile of an indulgent father, expressed his joy when he saw the lawns had morphed into the reality that we all had envisioned together. Mission accomplished!