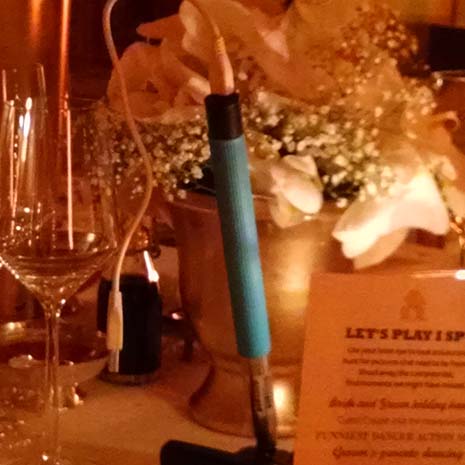 Shaina M & Anmol G wedding. Hotel Kempinski, Munich
Shaina M & Anmol Gangaramani's wedding
Hotel Kempinski, Munich

One of my closest friend recommended us for his cousin's upcoming wedding. Anmol is from Dubai and Shaina shuttles between London & Dubai. It was 2 weeks later, that we were able to fix a meeting, since they were at distant locations without any immediate plan to travel to India, we agreed to meet on Skype. We had already sent them our wedding brief questionnaire to assimilate and gather their vision for a dream wedding. I still remember how Shaina had meticulously filled in the details, giving us an elaborate insight into her various ideas for each of her wedding events. Whether it was the colors, the elements, the flowers she likes and the ones she doesn't – she was a dream client to work with!
We knew that theirs was going to be a destination wedding, but at the time of our initial discussions, the location wasn't finalized. There was a deep desire to hold the wedding in India owing to their country of origin. However, due to various logistical considerations, they chose Munich! Now we have all heard of Indian weddings being organized in Italy, Spain, Greece or even remote locations of Europe – but no one had ever ventured into Germany! And truly, even for the Kempinski, that hosted the entire wedding- it was a first for them to be a part of Indian wedding celebrations. Our recce was planned for July, along with Shaina and her wonderful family! Due to the detailed brief and clarity on venues from Shaina, it made our work far easier on site! I did say she was fabulous!

One of the most critical decisions for us, was to select our décor vendors for the events. And we met quite a few! We were essentially looking for someone who could translate our design and vision into reality. Finally, we zeroed in on the florist, the prop hire agency, the lighting and technical teams! They all were so keen to deliver a fabulous event; a lot of effort went into making this a visual masterpiece.
There is one particular incident that took place during the wedding prep. Since the ceremony was to be performed with all rituals and tradition, we had been asked to arrange for garlands for the wedding ceremony. We had requested the wedding priest to carry the garlands with him on flight. They were refrigerated upon arrival; however, the flowers had withered the following day. There was no way, we could have used them. I don't need to emphasize how important is this ritual for an Indian wedding. Our florist, Stefan Grob was our saviour for the day! He used red hypericum berries and gypsophila to weave the most beautiful garlands at a very short notice!
We heaved a sigh of relief when it was completed just in the nick of time… I almost forgot to mention, that the Munich streets were beautifully lit and decorated in anticipation of Christmas! It almost felt that the city was prepping for the wedding! What a gorgeous sight to witness – it still remains vivid in my memory!